Demolition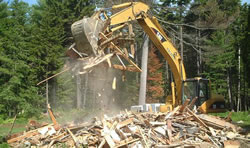 Design West Landscaping is not only your reliable partner in landscaping but also in clearing and demolition projects. Whether you are planning to transform your barren outdoor area into a landscape masterpiece or you want to replace some features and structures in your landscape, you can always rely on our expertise and experience.
We service Lodi, Stockton, Dublin, Elk Grove, San Ramon, Livermore and neighboring cities in California.
Call Us NOW for an Estimate (209) 327-9661, Or Click here to Contact Us.
Why Hire a Demolition Company?
There are a lot of good reasons why you should hire an experienced and licensed contractor when it comes to demolition jobs. Aside from the skilled manpower, a contractor has the needed tools and equipment to perform the jobs efficiently and safely.
When you choose to hire a demolition company, you can be confident that the job will be handled professionally and according to your specifications. It will also take care of everything -- from demolishing structures and features in your outdoors to hauling the debris to proper waste disposal areas. These are only some of the benefits you'll get when you choose experienced demolition contractors.
Choosing a Demolition Contractor
If you are in the San Joaquin Valley and East Bay Area, Design West Landscaping can provide you reliable demolition services. We can work on various types of projects involving residential and commercial properties. It doesn't matter whether you have a single structure to be demolished or you want to completely remove all structures and features in your property. We can complete these jobs with high level of accuracy and efficiency.
Before we proceed with any demolition task, our team will conduct an area assessment to identify utility connections that may be affected during the removal process and other possible risks. This way, costly damages are avoided, and the project is completed at a faster rate.
As your trusted demolition company, we also assure you that we have the needed tools and equipment that will help us complete projects with positive results. From the most basic tools, like saws, grinders, and jackhammers, to heavy equipment, like excavators and hauling trucks, we have them all.
Your safety is also our main priority, so our men ensure that the demolition job is performed according to industry standards and regulations. We have a systematic approach in handling concrete, wood, metal, and other types of demolished materials. We see to it that the different waste materials from the site are handled appropriately. Hazardous waste is disposed of in designated disposal sites while those materials that can still be recycled are reused in certain areas in your property, if possible.
Experts in Demolition Services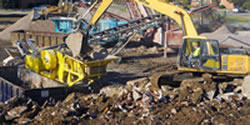 Some of the demolition jobs that we've already handled for our numerous California clients include removal of room partitions or walls and stripping out of concrete pavement or structures. Most of these tasks are needed for installing or renovating decks, patios and kitchen floors, sitting areas, walls, and other paved surfaces.
You can also rely on us on other hardscape demolition tasks, such as removal of old driveways, walkways, courtyards, and retaining walls.
If you want to know more about our services, please call us at (209) 327-9661. You can also drop by at our Victor office so we can discuss further the details of your project.
Call Us NOW for an Estimate (209) 327-9661, Or Click here to Contact Us.