Erosion Control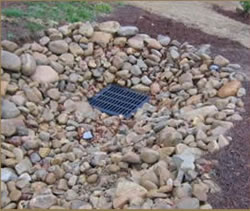 Design West Landscaping is California's premier installer of efficient erosion control systems. For years, we have helped countless property owners in the East Bay and San Joaquin Valley regions enjoy safe homes or business establishments with the anti-erosion systems that we put in place.
We service Lodi, Stockton, Dublin, Elk Grove, San Ramon, Livermore and neighboring cities in California.
Erosion Control Products
There are actually a lot of soil erosion products available that we can install in your outdoor area or landscape. Among such examples are geotextile materials and fibers, which can effectively prevent soil from eroding. Geotextile is known as a highly strong material that can keep soil erosion at bay. Natural fibers also act as excellent soil erosion control materials when combined with various plantings.
We can also install retaining wall systems using sturdy materials and place them along strategic areas in your property. These walls will be designed and built following industry's best practices and efficient building techniques, ensuring that they are built to last for decades.
Call Us NOW for an Estimate (209) 327-9661, Or Click here to Contact Us.
Sediment Control System
We also tackle concerns regarding sediment control in landscapes and properties. We have skilled workers who can prevent such a disaster by installing the right system. We will ensure that the area will be properly prepared prior to installation to ensure that the structure will be firmly installed. Our process follows EPA recommendations, so you're assured of accurately installed controls that won't harm the environment. Among the sediment controls that we can install are sediment trap, small diversion dikes, and the like.
Erosion Control Plants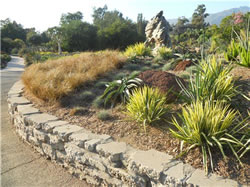 There are specific plant species that are proven to effectively absorb water, strengthen soil, and prevent erosion issues that damage properties or pose safety risks to people. Accordingly, we install erosion control plants from partner nurseries to ensure that your property and its occupants will be safe from harm.
Among the fine quality erosion control plants that we can provide to you are:
Groundcovers and shrubs. We can install California Fuchsia, Twin Peaks, Yankee Point, Groundcover Sage, Yarrow, Juniper, Rosemary, Buttonbush, and many others. These are not only highly beneficial in your bid to curb incidents of soil erosion but are also highly decorative.


Trees. Trees have long been hailed for their excellent erosion prevention capabilities, since they absorb rain and storm water effectively. Their roots also go deep down into the soil, making it stronger and less prone to erosion. Some of the tree varieties that we can plant include Cascara, Willow, Fir, Pine, Oak, and Walnut.
Reliable Erosion Control Installation
Our installers are equipped with the best erosion control materials and supplies. They use appropriate tools and equipment that help them perform their tasks with ease, hence allowing them to finish their projects on time and within our clients' budget limit.
At Design West Landscaping, we always follow a set plan before we push through with every installation. This allows us to work fast without committing any misstep that could delay or jeopardize the project's outcome. With a supervisor taking control of all necessary preparations and installation steps, we guarantee clients with erosion and sediment control systems that are working flawlessly and last for decades without requiring major troubleshooting or maintenance efforts.
If you wish to know more about our erosion control services, just dial (209) 327-9661.
Call Us NOW for an Estimate (209) 327-9661, Or Click here to Contact Us.