Site Work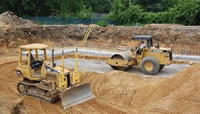 We at Design West Landscaping provide comprehensive site work services to residential and commercial property owners in various areas in East Bay and Northern San Joaquin Valley. If you need help on any landscaping work, please contact us today and we'll visit your property for initial assessment.
We service Lodi, Stockton, Dublin, Elk Grove, San Ramon, Livermore and neighboring cities in California.
Call Us NOW for an Estimate (209) 327-9661, Or Click here to Contact Us.
Drainage, Debris Removal and More
We offer a holistic approach to maintaining and improving any type of property. In addition to drainage, here's some other of the site work services that our company provides:
Drainage

Having a 100 percent functioning drainage system on a year-round basis is critical in ensuring an orderly landscape. Accordingly, we provide technical services that range from performing periodic check-up and maintenance, and then repairing damages no matter how small or complex it is.

Land Leveling/Grading

Whether you just need an unsightly slope flattened or you want to properly grade the soil, we will ensure that you'll get your desired results. We have the appropriate heavy equipment to perform complicated land leveling and grading task with ease no matter how big or small the work area may be.

Weed Clearing

Weeds are arguably one of the most common and most destructive elements in any landscape. They not only make a yard look untidy but also deprive plants, flowers, shrubs, and trees the nutrients they need to stay healthy. This is why we also offer weed clearing services for our valued clients who want to ensure that their greenery is in top shape and health all-year long.

Debris Removal

This includes debris removal and tree stump removal. Our yard debris removal services are perfect if you have just had some of your trees cut or had a lot of debris littering your property because of a natural calamity like a hurricane. We have dump trucks and payloaders that will be ready to completely rid your property of such eyesores and risk magnets.

Demolition

If you have an existing structure that's badly worn out and you need it taken down for a new project, we can demolish the structure for you. If you think that it's already too much of an eyesore and you want a new outdoor living area or a landscaped garden installed instead, we will get rid of it, prep it, and then perform your desired changes.

Bobcat Service

With Bobcat tractors and other equipment we can trench, break and remove concrete patios, sidewalks, driveways and foundations. We can also do things like swimming pool removal as well as some limited access projects such as basement excavation under an existing house.
Hire Us for Your Various Site Work Needs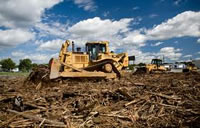 Ensuring that properties are properly taken care of by performing different site work tasks is our business. Whether you need a drainage system installed or you want an old structure demolished, we have the equipment, manpower, and expertise required to get the job right and on time.
With decades of industry experience, we put forth immense first-hand know-how on proper site work processes. We carefully note what our clients wish to achieve, perform site inspection, and then map out our strategy. Our people ensure that everything is properly coordinated and that the client knows exactly where the project is already at. With this, we ensure smooth work flow and guarantee that we can finish our projects on time and within client's budget.
Our company has been delivering top-notch site work services to property owners for years. Contact us for more details on our services.
Call Us NOW for an Estimate (209) 327-9661, Or Click here to Contact Us.