Sod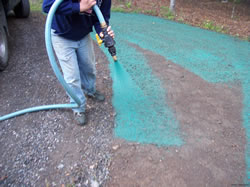 Design West Landscape provides the best landscaping services. We ensure that the highest grade of materials is used and that the best Sod & Hydroseeding goes into your lawns.
We service Lodi, Stockton, Dublin, Elk Grove, San Ramon, Livermore and neighboring cities in California.
What is Hydroseed?
Hydroseed is nothing but seed and hydromulch. The Hydroseeding we use is made with a specialized binding material. There are some hydroseeding machines that are able to spray only paper mulch products. This can result in a very inferior job and you might end up facing erosion control problems.
Call Us NOW for an Estimate (209) 327-9661, Or Click here to Contact Us.
Hydroseeding Advantages
We use the highest quality equipment and finest hydromulching products. We are also able to customize the Hydroseed mix, to suit your home environment. There are some distinct advantages to using Hydroseed instead of seed:
The seed germinates faster


A larger percentage of the seed germinates


It offers higher rates of plant survival


Reduces soil erosion


Distributes seed, mulch and fertilizer evenly


Its versatile and it's easier to seed slopes or any irregular spots


No masking is required for flowerbeds, walkways or any other hardscaping


The mulch gets converted to hummus and integrates with the soil


You get more plush and fuller lawns


Different Types of Sod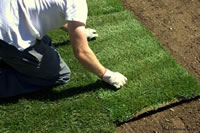 Sod is different from Hydroseeding and is an ideal option for those who wish to have an instant lawn. Sod is simply grass that has already started growing. Many people prefer this over seeding. Grass sod tends to be much more expensive than seeds but offers fast results.
The sod is grown on grass farms and sod installation is carried out in segments or squares. It has grass and topsoil that grows into the ground it is placed on and you can have a lush and plush lawn within 30 days. The variety of sod that is used will depend on the type of grass you need and the climate that it is going to live in:
Bahia- This grows amazingly well along Southern Atlantic coastlines and in Florida. It is a strong and sturdy, thick & coarse sod that is highly disease resistant and excellent for high-traffic areas


Bermuda- Bermuda grass sod is commonly found in the south and grows very well in bright sunlight. This is a coarse grass that tends to turn brown in the winter. But its hardy and once the weather changes, it goes back to being green


Zoysia- Zoysia sod is a very slow growing grass and is perfect for transitional zones and in the south. It has to be watered well and needs full sunlight


Centipede- Centipede sod is a slow growing, low-maintenance grass and will grow well in partial or full sunlight conditions


Fescue sod- is available in 3 varieties and it grows best in shady and cool climates. The Tall Fescue is a low-maintenance grass that is used as a mix and is the preferred choice for sports fields and public gardens.


We offer you all kinds of Sod & Hydroseeding. Call Us NOW for an Estimate, or for services in the San Joaquin Valley and the East Bay Area.
Call Us NOW for an Estimate (209) 327-9661, Or Click here to Contact Us.