Fencing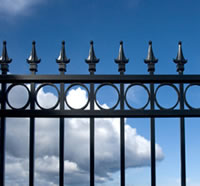 We at Design West Landscaping can provide expert fencing services for residential and commercial property owners living in various cities in the Northern San Joaquin Valley and East Bay areas.
Whether it's wood, aluminum, vinyl, or ornamental wrought iron fencing material that you want, you can count on us to provide you the best design and installation possible.
We service Lodi, Stockton, Dublin, Elk Grove, San Ramon, Livermore and neighboring cities in California.
Call Us NOW for an Estimate (209) 327-9661, Or Click here to Contact Us.
Stunning Wood and Wrought Iron Fences
As fencing specialists, we take pride in our beautifully designed and crafted wood and ornamental wrought iron fences. Our wood fences, for example, are not the typical picket type ones that are painted with traditional white. Instead, we offer unlimited designs that you will surely find appealing.
Our fences have a classic, timeless appeal that you won't find in others. This is particularly true with the ornamental wrought iron fences that we create. These are not only sturdy, but also showcase our expertise in creating intricate patterns and designs. In short, the fences that we design and make are never boring.
Stylish Vinyl and Aluminum Fences
Ever heard of vinyl and aluminum fences? Well, you'd probably be surprised just how many property owners prefer these materials for their fencing requirements. As it is, these options are gaining popularity since they mimic more traditional wood and iron fences but with lesser need for periodic maintenance. So if you're fond of experimenting, then these materials might be perfect for you.
Privacy Fencing
If you value your privacy very much and you just hate neighbors who are fond of sticking out their necks to see what you're doing inside your property, then privacy fencing should be your thing. Our artisans can provide you the secluded spot that you have always dreamed of by installing attractive and highly functional privacy fences around your property. With clever positioning, you can finally heave a sigh of relief since you no longer have to worry about the prying eyes of nosey neighbors!
Custom and Decorative Gates
Aside from fencing projects, we also accept requests to design and install custom gates or decorative gates. Many of our long-time clients also wanted us to build them sturdy and attractive gates since they got impressed with the fences that we have built for them. So, as we have built them stunning custom and decorative gates that enhanced the beauty of their properties, we can also do the same for you.
Top Quality Fences and Gates for California Property Owners
With our combined decades of experience handling hundreds of fencing projects for numerous residential and commercial property owners in California, you're guaranteed of receiving only expert services from us.
Our artisans, designers, builders, and landscape workers are all trained and certified by industry associations so they surely possess the skills required to ensure the success of every landscaping and fencing projects that we tackle. They can work on any type of material such as wood and ornamental wrought iron. With our passion for excellence, you're rest assured that the fences we will create for you will make your property stand out while giving you the privacy and protection that you need.
With Design West Landscaping, great fences and gates can be yours with just a phone call. Contact us today and let us know which of the fences we mentioned get you excited.
Call Us NOW for an Estimate (209) 327-9661, Or Click here to Contact Us.