Fireplaces and Fire Pits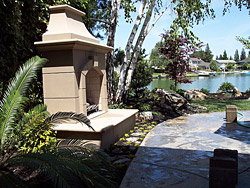 Fireplaces and fire pits are not just necessities because they can be aesthetic assets in a landscape or an establishment if customized.
A fireplace in a home is a main feature or attraction because the crackling sounds and the flames console. Their benefits go beyond cooking and giving heat because they are eye candies and great stress relievers.
Affordable and Quality Fireplaces
At Design West Landscaping, we sit down with clients to discuss their preferred fireplace model. We suggest to clients so their aesthetic concerns will be matched with practical needs, which will result to affordable quality fireplace. Fireplaces can be outdoors or indoors, elaborate or simple, and in open or enclosed spaces.
Our company has been designing and installing quality fireplaces in California. A homeowner who has no idea what to include in their fireplaces should not worry because our experienced staffs knows every detail and component of a fireplace. We can explain the functions of each component and customize it according to your specifications.
We can make various types of fireplaces like traditional fireplaces, wood stoves, for patio and pool, and Al Fresco. We already have completed several fireplace projects and negotiated with numerous satisfied customers in the East bay Area and San Joaquin Valley since 1991.
Call Us NOW for an Estimate (209) 327-9661, Or Click here to Contact Us.
Fire Pit is a Popular Addition to Landscapes
Fire pits exist since time immemorial and it was invented because comfort and food are basic necessities. Despite man's technological advancements in fire usage, fire pits are still famous because of usage versatility. Fire pits can vary physically from sophisticated gas burning of compiled metal, brick, and stone to a simple hole in a ground.
Fire pits have many usages. Besides cooking, it can be utilized for warmth atmosphere and beauty. People can make Do-It-Yourself fire pits like making a ground hole and surround it with rocks. However, the fire pit may become a dangerous area and an unsightly spot in the landscape.
Customized Fire Pits
The basic design of fire pits is to hold and control fire from spreading. However, fire pits can become works of art through masterful craftsmanship. The motif of a fire pit can harmonize or contrast a landscape's basic design. Design West Landscaping can help our clients customize fire pits to their liking that syncs with practical purposes. Our crew has a keen eye on details so clients are certain that they will have a stunning and excellent fire pit.
There are commercially available fire pits in different types like portable, copper, chiminea, cast iron, and gas-powered. There are also top sellers like gas fire pits, fire pots, wood burning fire pits, and fire pit tables. These fire pits if customized will give homeowners a personal feel besides being an eye candy in their outdoors or establishment.
Call Us NOW for an Estimate (209) 327-9661, Or Click here to Contact Us.
Fireplaces and Fire Pits from Design West Landscaping
Customer satisfaction is the main goal of Design West Landscaping. From consultation to initial contract and until project conclusion, we work with clients closely and respond immediately to their specific needs. We don't have subcontractors so clients are satisfied; they don't need to negotiate with different dealers and schedules. The fire places and fire pits we create can be cheaper yet quality is certain.