Ponds, Waterfalls & Water Features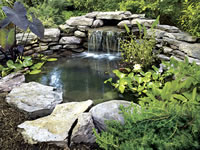 Would you like to complete your landscape setting with the inclusion of a water feature? Then the team at Design West Landscaping is the right company for you. We have many years of experience in the design and installation of residential and commercial ponds, waterfalls and all types of water features.
The addition of a water feature will change the feel of your landscapes to one with tranquility and a sense of peace. Let us transform the way your landscapes look and feel with one of our innovative ponds, fountains or waterfalls. We have been servicing the Northern San Joaquin Valley and East Bay area for many years and with great success!
We service Lodi, Stockton, Dublin, Elk Grove, San Ramon, Livermore and neighboring cities in California.
Call Us NOW for an Estimate (209) 327-9661, Or Click here to Contact Us.
Waterfalls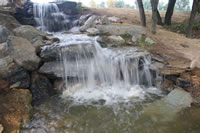 No matter how large or small your space is, we at Design West Landscaping can custom design a waterfall for your property. There really is nothing like the sight and sound of running water. It has a way of creating an ambiance like no other. There is no doubt that all of our senses are greatly affected by water.
Installing a waterfall will enhance the appeal of your landscapes and add some real natural appeal. We can also help you choose the right types of plantings to surround your new waterfalls. Leave it to the professionals and you will be delighted with the results.
Pond and Koi Ponds Specialists
At Design West Landscaping we are the ponds and waterfalls specialists. With our highly experienced team we can take on your next garden pond project from start to finish. Our landscape designers will custom design a pond that will fit perfectly into your landscapes.
You may choose to simply have a standalone pond or perhaps you would like a pond waterfall also. This will of course depend on the amount of space you have and how dramatic of a feature you want to create. Another popular type of pond is a fish or KOI pond. This is a really nice way of bringing some nature into your landscapes.
Beautiful Water Features For Your Landscape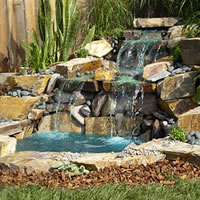 Our water feature designs will add a peaceful natural ambiance to any property.Design West Landscaping specializes in garden water features. We will transform your gardens with a stunning feature uniquely designed for your property!
We provide a full range of services from the planning and design phase to the installation and also any maintenance requirements. Our goal is to provide you with a water feature that will increase the aesthetic appeal and the value of your home or business landscapes.
It is best to leave this type of project to the professionals for we have all the necessary expertise, knowledge and equipment needed to get the job done fast and right the first time. You want to ensure that you have a water feature that is not only beautiful but one that will also function properly. So let the team at Design West Landscaping get you started on the road to having the water feature of your dreams. Contact us today and we will provide you with a personal consultation!
Call Us NOW for an Estimate (209) 327-9661, Or Click here to Contact Us.